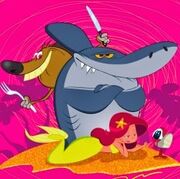 Zig and Sharko is a animation French Series Oggy and the Cockroaches and Space Goofs.
Main Characters
Edit
Minor Characters
Edit
Recurring Characters
Edit
Gag the Fish
Zony the Turtles
Other Characters
Edit
Fish
Turtle
Warlus
Parrot
Monkey
Gorilla
Octopus
Sea Orchins
Peoples
Dog
The Boat Ships
Magician
Ad blocker interference detected!
Wikia is a free-to-use site that makes money from advertising. We have a modified experience for viewers using ad blockers

Wikia is not accessible if you've made further modifications. Remove the custom ad blocker rule(s) and the page will load as expected.