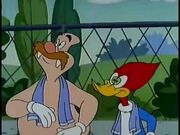 Wally Walrus is one of the main antagonists from The Woody Woodpecker Show and The New Woody Woodpecker Show as well as Woody's next door neighbor that he mooches off of. Wally fatherland is Sweden and talks in an accent. He has a nephew named Willy Walrus.
In the 1999 series he resembles Dr. Robotnik from Adventure of Sonic The Hedgehog.
Ad blocker interference detected!
Wikia is a free-to-use site that makes money from advertising. We have a modified experience for viewers using ad blockers

Wikia is not accessible if you've made further modifications. Remove the custom ad blocker rule(s) and the page will load as expected.