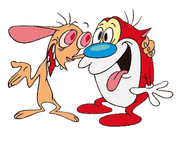 Ren and Stimpy had air on Nickelodeon, Mtv, Spike Tv and Nicktoons Network. The show was created by Jonh Kricfalusi of Spumco. The show is about a Chihuaha and Cat duo who are about to have bizzar adventures.
The show later had an adult party cartoon in 2003 that aired on Spike Tv. Eric Bauza voices Stimpy in that series, a lot of people didn't like the APC as much as the oriniginal.
Characters
Edit
Stimpson J. Cat (Billy West)
See List of The Ren & Stimpy Show episodes.
Merchendices
Edit
See List of Ren & Stimpy merchedice.
Ren and Stimpy had be referenced three times in The Simpions.
Ren Stimpy was parodied in the anime Panty and Stocking.
Stimpy was removed in the arcade version of Nicktoons Racing.
Ad blocker interference detected!
Wikia is a free-to-use site that makes money from advertising. We have a modified experience for viewers using ad blockers

Wikia is not accessible if you've made further modifications. Remove the custom ad blocker rule(s) and the page will load as expected.