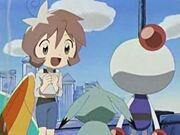 White Bomber
and
Louie
meets Shout and White Bomber joins the Jetters.
Characters
Edit
In Japan, the program was brought to us by Hudson Soft and Konami was one of the following sponsers.
Louie was refered to as Rui thoughout the episode.
Ad blocker interference detected!
Wikia is a free-to-use site that makes money from advertising. We have a modified experience for viewers using ad blockers

Wikia is not accessible if you've made further modifications. Remove the custom ad blocker rule(s) and the page will load as expected.