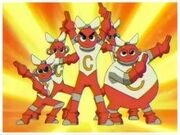 A devious trick of The CutMan Brothers cause Lan to oversleep and miss out on an outing with his friends.
Characters
Edit
The shot at 2 bombs being thrown could be a Bomberman Jetters shout out.
The shadows eyes look similar to Toon Link's
Even though Roll, Guts Man, Glyde and Ice Man don't appear in this episode, the some shadows where mase into there .EXE forms (as well as their voices).
The English dub to this episode only aired in Canada.
Ad blocker interference detected!
Wikia is a free-to-use site that makes money from advertising. We have a modified experience for viewers using ad blockers

Wikia is not accessible if you've made further modifications. Remove the custom ad blocker rule(s) and the page will load as expected.