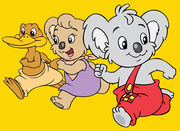 Blinky Bill is a Koloa Bear who has adventures with his friends. Because it looks like it's aimed at young children, it's shall apart of Nick Plus's mini educational block along with The New Adventures of Ocean Girl, The Charlie Brown and Snoopy Show, Baby Felix, Hamtaro, and Garfield & Friends.
The show is from the studio of Yorum Gross and base on Dorothy Wall's books.
Characters
Edit
Merchendice
Edit
A number of various Austrailan creatures are seen in this series.
Ad blocker interference detected!
Wikia is a free-to-use site that makes money from advertising. We have a modified experience for viewers using ad blockers

Wikia is not accessible if you've made further modifications. Remove the custom ad blocker rule(s) and the page will load as expected.