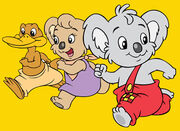 Blinky Bill is a Koloa Bear who has adventures with his friends. Because it looks like it's aimed at young children, it's shall apart of Nick Plus's mini educational block along with The New Adventures of Ocean Girl, The Charlie Brown and Snoopy Show, Baby Felix, Hamtaro, and Garfield & Friends.
The show is from the studio of Yorum Gross and base on Dorothy Wall's books.
Characters
Edit
Merchendice
Edit
A number of various Austrailan creatures are seen in this series.