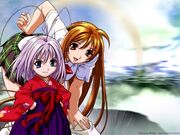 Tenjho Tenge is an anime series that's base on the manga of the same name. It aired on Fuse TV amongside Ergo Proxy.
The plot focus on friends at the Toudou Academy. They'll have to beat up anyone that gets into there way.
Characters
Edit
Merchendice
Edit
The series is on DVD
Certain characters also have there own figures, Plush and Keychains
When you watch the english dub, you might notice that people who voice there characters also bare reseblance to some of the Bleach characters.
Ad blocker interference detected!
Wikia is a free-to-use site that makes money from advertising. We have a modified experience for viewers using ad blockers

Wikia is not accessible if you've made further modifications. Remove the custom ad blocker rule(s) and the page will load as expected.