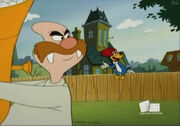 Woody pratices to get a hole-in-one for a free membership at a country club and Wally is getting in the way of that.
Characters
Edit
Woody Woodpecker (Billy West)
Wally Walrus (antagonist) (also voiced by Billy West)
Getting Crap Past The Radar
Edit
This episode contain a reference to ganster films.
Woody: Looks like you uhh, got some of my balls
When Woody said "it's Tee Time" the tone of his voice sounded drunk.
Woody spoke in a german accent in this episode
Ad blocker interference detected!
Wikia is a free-to-use site that makes money from advertising. We have a modified experience for viewers using ad blockers

Wikia is not accessible if you've made further modifications. Remove the custom ad blocker rule(s) and the page will load as expected.