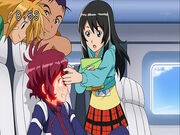 "I can never go to the jungle (or the dessert for that matter), There are no convince stores & big ugly bugs"
-Sumi
Sumi Inaba is a supporting character in B-Daman Crossfire. She a scool mate of Riki Ryugasaki and good friend of Akira Saiga. Her B-Daman is  Lighting Rabbit. Simon Sumiya is afraid of her.
Ad blocker interference detected!
Wikia is a free-to-use site that makes money from advertising. We have a modified experience for viewers using ad blockers

Wikia is not accessible if you've made further modifications. Remove the custom ad blocker rule(s) and the page will load as expected.