Sonic the Hedgehog (Japanese: ソニック・ザ・ヘッジホッグ? Hepburn: Sonikku za Hejjihoggu), trademarked Sonic The Hedgehog, is the title character and protagonist of the Sonic the Hedgehog series released by Sega, as well as numerous spin-off comics, five animated shows, and an animated OVA.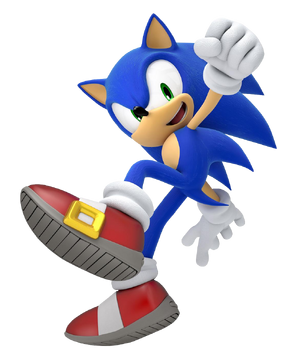 Sonic is a blue anthropomorphic hedgehog who has the ability to run at supersonic speeds and the ability to curl into a ball, primarily to attack enemies. Throughout the course of the video games, Sonic most commonly has to race through levels, collect power up rings and survive against a host of natural obstacles and minions to achieve his goal. While many individuals at Sega had a hand in Sonic's creation, programmer Yuji Naka and artist Naoto Ohshima are generally credited with the creation of the character.
The first game was released on June 23, 1991, to provide Sega with a mascot to rival Nintendo's flagship character Mario (see 1991 in video gaming). Since then, Sonic has become one of the world's best-known video game characters, with his series selling more than 80 million copies. In 2005, Sonic was one of the first game character inductees into the Walk of Game alongside Mario and Link.
There video game Nintendo characters name are in Blue and Red to the Super Mario Bros.
Ad blocker interference detected!
Wikia is a free-to-use site that makes money from advertising. We have a modified experience for viewers using ad blockers

Wikia is not accessible if you've made further modifications. Remove the custom ad blocker rule(s) and the page will load as expected.