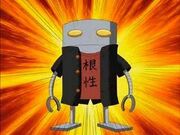 Shinichi Mechazawa is one of the few main characters in Cromartie High School. He's a robot with a personallity that is an ace in the hole. Sometime he would be better than the other students. He has a little brother named Beta Mechazawa. His face apperance is very similar to Meta Knight (while Meta Knight is masked).
Has the ability to turn into a moto-cycle.
The theme hints that theirs clones of him.
Ad blocker interference detected!
Wikia is a free-to-use site that makes money from advertising. We have a modified experience for viewers using ad blockers

Wikia is not accessible if you've made further modifications. Remove the custom ad blocker rule(s) and the page will load as expected.