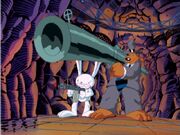 Sam and Max: Freelance Police (or The Adventures of Sam and Max: Freelance Police) is base on
Steve Purcell
's dog and rabbity-thing with the same name. Who solves a case their own freelance way.
There was later a video game series base, yet that was refuged in valgarity.
Characters
Edit
Merchendice
Edit
Sam and Max had been referenced in Strong Bad's Cool Game For Atractive People and Max appered in Poker Night At The Inventory.
Ad blocker interference detected!
Wikia is a free-to-use site that makes money from advertising. We have a modified experience for viewers using ad blockers

Wikia is not accessible if you've made further modifications. Remove the custom ad blocker rule(s) and the page will load as expected.