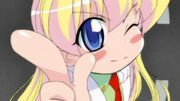 Rebecca "Becky" Miyamoto is the main protagonist in Pani Poni Dash. She is a child teacher from Class 1-C. Her birth was from a American mother and a Japanese father. She can show childish signs by time by time. Her tagalog friends is Mesousa.
Voiced By
Edit
The fact that she's voiced by Hilary Haag in the english dub can mean she can sound a lot like Super Milk-Chan.
Ad blocker interference detected!
Wikia is a free-to-use site that makes money from advertising. We have a modified experience for viewers using ad blockers

Wikia is not accessible if you've made further modifications. Remove the custom ad blocker rule(s) and the page will load as expected.