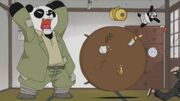 The panda appered in the episode Fire It Up! Abenobashi Hong Kong Combat Shopping Arcade of Abenobashi Shopping Arcade. He was used for Sasshi's training to fight Papa. He would stike Sasshi sometimes and Sasshi would call him Spot.
Ad blocker interference detected!
Wikia is a free-to-use site that makes money from advertising. We have a modified experience for viewers using ad blockers

Wikia is not accessible if you've made further modifications. Remove the custom ad blocker rule(s) and the page will load as expected.