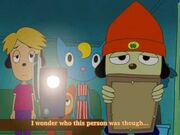 Post you english dub suggestions for the PaRappa The Rapper anime.
If Funimation, or ADV Films or whatever (except 4Kids due to kid-friendly unnecessary edits and overloaded with censorships) licensed PaRappa, It will be dubbed by Dredd Foxx, and Armstead Christan, and/or people who were suggested by Tommypezmaster or other people
Tommypezmaster suggest
Edit
PaRapper/Chop Chop Master Onion/Gaster/Papa PaRappa Rapper-William Salyers
Matt Major-Vic Mignogna
P.J. Berri-Caitlin Glass
Katy Kat-Brina Palencia
Sunny Funny-Luci Christian
Paula Fox-Kari Wahlgren
Groover-Andrea Libman
Pinto Rappa-Carrie Savage
Boxy Boy-Monica Rial
Uee-Cherami Leigh
MagicMonkey761 suggest
Edit
NOTE: Some of these voice actors from the video game were suggested.
PaRappa and some people calls Sunny the same name edited out from "Sunny-chan" in TV edits unless they calls Sunny "Sunny-chan" in the DVD Uncut Version.
PaRappa - Dredd Fox, Joshua Seth
P.J. Berri - Armstead Christian
Katy Kat - Charlean Carmon
Chief Puddle - Richard Bush
Boxy Boy/Hairdresser Octopus - Freedom Brenmer
Chop Chop Master Onion - Ryu Watabe (same as the Japanese Voice)
Colonel Noodle - Andrew Alonzo, Tom Kenny
Uee - roled as silly violin sound fx (Original Japanese Voice Role)
Sorenrulescool5 suggest
Edit
Parappa-Jaleel White
Suny-Liliana Mumy
PJ-Scott Mccord
Katy-Janice Kawaye
Matt-Skyler Gisondo
Paula-Olivia D'abo
Pinto-Kaitlyn Maher
Gaster-Eric Bazua
Groobe-Tom Kenny