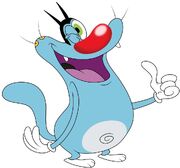 Oggy and The Cochroaches is a show from the people who brought us Space Goofs and Zig and Sharko. It's about a fat blue cat named Oggy who is driven crazy by 3 roaches. Many of the episodes don't have much dialog (unless there's voices in Hindi) yet there no need for dubbing in the states.
After a long wait since this wiki was made, the show finally made it to Nick in the states.
Main Characters
Edit
Recurring Characters
Edit
Other Characters
Edit
See List of Oggy and The Cockroaches Episodes.
Merchendice
Edit
Ad blocker interference detected!
Wikia is a free-to-use site that makes money from advertising. We have a modified experience for viewers using ad blockers

Wikia is not accessible if you've made further modifications. Remove the custom ad blocker rule(s) and the page will load as expected.