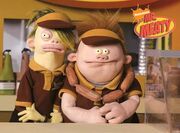 Mr. Meaty is another show Nicktoons Network unfairly boot among side Catscratch and Ricky Sprocket: Showbiz Boy for stuff like Tak and The Power of Juju. The show is about two guy working at a fast food joint as Scotchborrow Mall and has misadventures.
Characters
Edit
Merchendice
Edit
Mr. Meaty had appered in one of the DVDs in the Nicktoons DVD series.
TV.com showed alot of hatedom to this show.
Possibly the prodesessor of Fanboy and Chum Chum.
Ad blocker interference detected!
Wikia is a free-to-use site that makes money from advertising. We have a modified experience for viewers using ad blockers

Wikia is not accessible if you've made further modifications. Remove the custom ad blocker rule(s) and the page will load as expected.