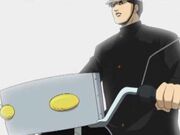 Kamiyama rode on Mechazawa (in moto form) without watching his way or holding on to the handles and Mechazawa goes really fast, causing the Leagondary Biker to retire and Mechazawa aces everyone in phisical education.
Characters
Edit
This episode uses another version of the Moto mechazawa montage.
Ad blocker interference detected!
Wikia is a free-to-use site that makes money from advertising. We have a modified experience for viewers using ad blockers

Wikia is not accessible if you've made further modifications. Remove the custom ad blocker rule(s) and the page will load as expected.