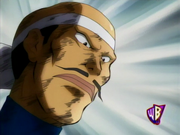 Masa is a character in Mega Man: NT Warrior. He a fishseller as well as one of the show's many supporting protagonist. In Robotic Fish Gone Wild!, He played a big role. Not only to give Lan and friends fitness and fish fact, but to help them out as well. His alter-ego is named Commander Beef.
Ad blocker interference detected!
Wikia is a free-to-use site that makes money from advertising. We have a modified experience for viewers using ad blockers

Wikia is not accessible if you've made further modifications. Remove the custom ad blocker rule(s) and the page will load as expected.