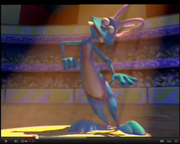 Rigatoni imprisons Rayman's friends to perform at his circus.
Characters
Edit
Rayman: Well you're not doing a very good job, LacMac's all goofy and he jumps around a lot. [fixes his hair and starts jumping around]
Getting Crap Past The Radar: Cookie runs around with an automatic-bread slicer.
Ad blocker interference detected!
Wikia is a free-to-use site that makes money from advertising. We have a modified experience for viewers using ad blockers

Wikia is not accessible if you've made further modifications. Remove the custom ad blocker rule(s) and the page will load as expected.