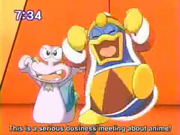 King Dedede is a recurring antagonist in the Kirby game series and the main antagonist in Kirby: Right Back at Ya!. He resembles a penguin-like creature. He is the self proclaimed ruler of Dreamland. He has a castle near Cappy Town. His assitants are Escargoon, The Waddle Dees and Waddle Doo. He orders monsters from Nightmare Interprise to destroy Kirby or other purposes.
Dedede is playable in "Kirby Air Ride", "Super Smash Brothers Brawl", "Kirby: Return to Dreamland" and in minigames in "Kirby 64: The Crystal Shards".
Dedede's weapon is a Giant Hammer.
Although he speaks in the anime, He seems to make volcal noises in "Brawl"
Ad blocker interference detected!
Wikia is a free-to-use site that makes money from advertising. We have a modified experience for viewers using ad blockers

Wikia is not accessible if you've made further modifications. Remove the custom ad blocker rule(s) and the page will load as expected.