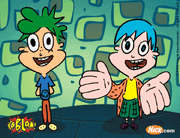 Kablam is an animated series about two show host named Henry and June who have misadventure while they show the viewers various animated shorts by turning the page (or other ways).
The Characters
Edit
The Shorts
Edit
Note: There are other shorts.
Henry and June were host of Nick's U-Pick Fridays.
Ad blocker interference detected!
Wikia is a free-to-use site that makes money from advertising. We have a modified experience for viewers using ad blockers

Wikia is not accessible if you've made further modifications. Remove the custom ad blocker rule(s) and the page will load as expected.