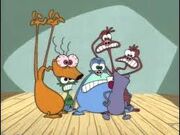 Santa Clause
comes the goofs house while they think he's a monster from a movie.
Characters
Edit
Don't Try This At Home
Edit
Etno: Dont try this at home kids.
Candy: Yes, you could hurt yourself.
Bud and Gorgious: Or someone you love.
Stereo: So remember, girls and boys...
Santa: Have a safe and happy holiday.
This episode contains a "dont try this at home" moment (see above quotes)
Getting Crap Past The Radar: When Etno fused Candy while his head was burning, his head resembles a cigerette when litted out.
Ad blocker interference detected!
Wikia is a free-to-use site that makes money from advertising. We have a modified experience for viewers using ad blockers

Wikia is not accessible if you've made further modifications. Remove the custom ad blocker rule(s) and the page will load as expected.