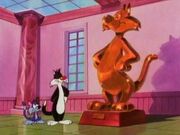 Hall of Cartoon Pussycats appered in second part the Tiny Toon Adventures episode Test Stessed. Furball was guided by his mentor Sylvester of the greatest of cartoon pusscats (mainly Sylvester himself and 3 parodies). Furball must prove to him to catch a mouse to prove himself worthy of the hall.
Helix is a parody to Felix the Cat, Garfunkle is a parody to Garfield and Tom Injury is a parody to Tom and Jerry.
Ad blocker interference detected!
Wikia is a free-to-use site that makes money from advertising. We have a modified experience for viewers using ad blockers

Wikia is not accessible if you've made further modifications. Remove the custom ad blocker rule(s) and the page will load as expected.