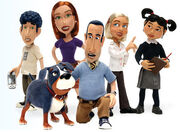 Glenn Martin DDS is about family man Glenn Martin who's also a dentist. He takes his family on a road trip and not to mention............that the Martin family house is destroyed.
Although TV.Com had show a lot of hatedom to this show, This show is a whole lot better than Tak and The Power of Juju.
Characters
Edit
See List of Glenn Martin DDS episodes.
Ad blocker interference detected!
Wikia is a free-to-use site that makes money from advertising. We have a modified experience for viewers using ad blockers

Wikia is not accessible if you've made further modifications. Remove the custom ad blocker rule(s) and the page will load as expected.