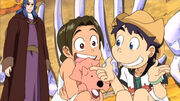 The Kids ended up in a prehistoric era. They return Tri-Spot to his family
Characters
Edit
Getting Crap Past The Radar
Edit
In one part in the scene where Sasshi is naked, they used and elephant face to cove his nether reigons.
Sis whips Taro and Arata on the back.
Sis has a lock on her lower garment.
Sasshi's family appered in this episode.
Ad blocker interference detected!
Wikia is a free-to-use site that makes money from advertising. We have a modified experience for viewers using ad blockers

Wikia is not accessible if you've made further modifications. Remove the custom ad blocker rule(s) and the page will load as expected.