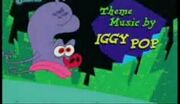 Etno Polino is the Goof's team leader and the main protagonist of Space Goofs. He's quite Intelligent. He's purple with a red nose and pink lips. He puts his gunious to the test by finding many diffent ways back home.
First Aired On Nicktoons UK From 2006
Ad blocker interference detected!
Wikia is a free-to-use site that makes money from advertising. We have a modified experience for viewers using ad blockers

Wikia is not accessible if you've made further modifications. Remove the custom ad blocker rule(s) and the page will load as expected.