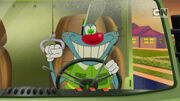 The Roaches steals a garbage truck that Oggy needs to use for his job as garbage man.
Characters
Edit
The tune of that Oggy flys around in Night Watchman was used in this episode.
The bird from Pizza Delievery might have returned.
For some reason when Nick started airing the first episode, Run! Olivia Run! aired in it's place.
Ad blocker interference detected!
Wikia is a free-to-use site that makes money from advertising. We have a modified experience for viewers using ad blockers

Wikia is not accessible if you've made further modifications. Remove the custom ad blocker rule(s) and the page will load as expected.