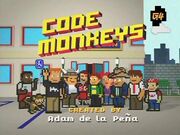 Code Monkeys is an American animated sitcom with animation in the style of 8-bit. The series follows a cast of characters working in a fictional game company call "
GameaVision
" (Possible parody to Activison).
It had air on G4 and will not be renewed for a third season.
Characters
Edit
See List of Code Monkeys episodes.
Merchendice
Edit
Mr. Larrity referes to the movie "E.T." as "ET".
Ad blocker interference detected!
Wikia is a free-to-use site that makes money from advertising. We have a modified experience for viewers using ad blockers

Wikia is not accessible if you've made further modifications. Remove the custom ad blocker rule(s) and the page will load as expected.