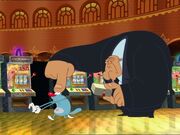 Casino is a season 3 episode of Oggy and The Cockroaches
Jack insist that Oggy should spend his check at the casno.
Characters
Edit
The sound effects in the slot machine sounds like the ones in Super Milk Chan.
We see that one of Oggy's paws is ungloved in this episode.
Ad blocker interference detected!
Wikia is a free-to-use site that makes money from advertising. We have a modified experience for viewers using ad blockers

Wikia is not accessible if you've made further modifications. Remove the custom ad blocker rule(s) and the page will load as expected.