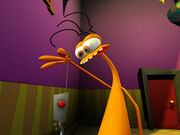 Bud Budiovitch is one of the main protagonist in Space Goofs. He's orange, tall, has big eyes and three pieces of hair on his head. He is the couch-potato of the group and watches tv a lot.
There's a character in a Geico add that uses Xtranormal that resebles Bud, only he was refered to as Todd.
He has a Taco Bell toy made of him called Unbeatable Bud. Wich is a figure of himself with boxing gloves and a towl. There a suction cup on th bottom of the figure.
Equivalent to C.C. from Code Geass
Ad blocker interference detected!
Wikia is a free-to-use site that makes money from advertising. We have a modified experience for viewers using ad blockers

Wikia is not accessible if you've made further modifications. Remove the custom ad blocker rule(s) and the page will load as expected.