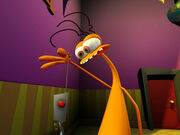 Bud Budiovitch is the teteragonist in Space Goofs. He's orange, tall, has big eyes and three pieces of hair on his head. He is the couch-potato of the group and watches tv a lot.
Jeff Bennett (Season 1 and Stupid Invaders)
Louis Garneau (Season 2)
There's a character in a Geico add that uses Xtranormal that resembles Bud, only he was refered to as Todd.
He has a Taco Bell toy made of him called Unbeatable Bud. Wich is a figure of himself with boxing gloves and a towl. There a suction cup on th bottom of the figure.