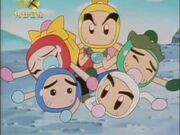 Post your english dub suggestion for Bomberman B-Daman Bakugaiden here.
Tommypezmaster's Suggestions
Edit
White Bomber/Bomberman-Jess Harnell
Blue Bomber-Terry Klassen
Red Bomber-Andrea Libman
Yellow Bomber-Richard Ian Cox
Black Bomber/Jack-Ian James Corlett
Dr. Gray Bomber-Phil Hayes
Green Bomber-Corey Burton
Light Blue Bomber/Rui-rui-Sam Vincent
Pink Bomber/Pi-po-Mona Marshall
Golden Bomber/Dark Bomber-Scott McNeil
Navy Blue Bomber-Alec Willow
Orange Bomber/Wind Bird-Kathleen Barr
Ponycorn-Lee Tockar
(The Petiton from http://www.ipetitions.com/petition/bomberman-bd-us/ also has this cast)
Ad blocker interference detected!
Wikia is a free-to-use site that makes money from advertising. We have a modified experience for viewers using ad blockers

Wikia is not accessible if you've made further modifications. Remove the custom ad blocker rule(s) and the page will load as expected.