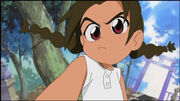 Arumi Asahina is the main female protagonist in Abenobashi Shopping Arcade. She Partners up with Shassi (who is also her best friend and class mate) to return home. She would some times lose it of freak out on certain ocaisons.
Ad blocker interference detected!
Wikia is a free-to-use site that makes money from advertising. We have a modified experience for viewers using ad blockers

Wikia is not accessible if you've made further modifications. Remove the custom ad blocker rule(s) and the page will load as expected.