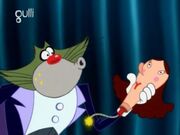 Jack performs an opera at the oprea house. The roaches continue to mess around during his big night.
Characters
Edit
When Oggy was ooohhhing after hearing Jack's singing near the beging, He sounds like Homestar Runner.
After when one of the cockroaches clips all of Oggy's feet claws off, Oggy's breifs fly off and the roach laughed after that.
Also in the same scene when the breifs fly off, The music sounded like the "Hidi's Got New Hi-Tops" theme from the Scechers ad.
The are six Pink-nosed Cops in this episode.
Ad blocker interference detected!
Wikia is a free-to-use site that makes money from advertising. We have a modified experience for viewers using ad blockers

Wikia is not accessible if you've made further modifications. Remove the custom ad blocker rule(s) and the page will load as expected.